The cozy, domestic world of the U.S. 1950s, with its playful, abstract patterns and comfortable cocktail chairs that evoke a sense of nostalgia ˗ this is the world into which visitors of the installation are introduced. They are invited to simply take a seat and let the space take effect on them, or to go on a discovery tour with the help of augmented reality and explore every object located in the space. In the process, a new perspective becomes visible, in which seemingly harmless patterns mutate into spies and propaganda machines. The room looks constricting and the patterns quickly become too much. The background is the perceptual errors of the McCarthy era, which led to a denial of facts and made susceptible to conspiracy theories. A topic that has become relevant again at the time of the pandemic.

Part of the work are five different patterns that function as markers for the app »Artivive«. They show the perception deficits with the help of metaphors.
I was invited to exhibit my bachelor project at the Goethe Institute, Nancy, France, as part of the exhibition »The Inner Life of« titled »The Inner Life of Delusion« from September to December 2021. It was also issued in September 2021 under the original title  »Wahrnehmungsspiele« in Bielefeld, Germany.

Process: Sketching for the patterns

The 1950s style patterns are abstracted shapes from what is seen in the augmented reality animations. They show some of the psychological phenomena related to the belief in conspiracy theories.
Goethe Institut Nancy, France
Preparing the curtains, setting up the furniture and light, testing the augmented reality in Nancy

Besides the exhibition of my bachelor thesis I got the opportunity to realize a window projection for the opening night of the exhibition. The projection is a slight variation of the flowers from the Augmented Reality animation. They should make visitors as well as passers-by curious about the exhibition and at the same time reflect the feeling of madness.

Impressions of the exhibition in Nancy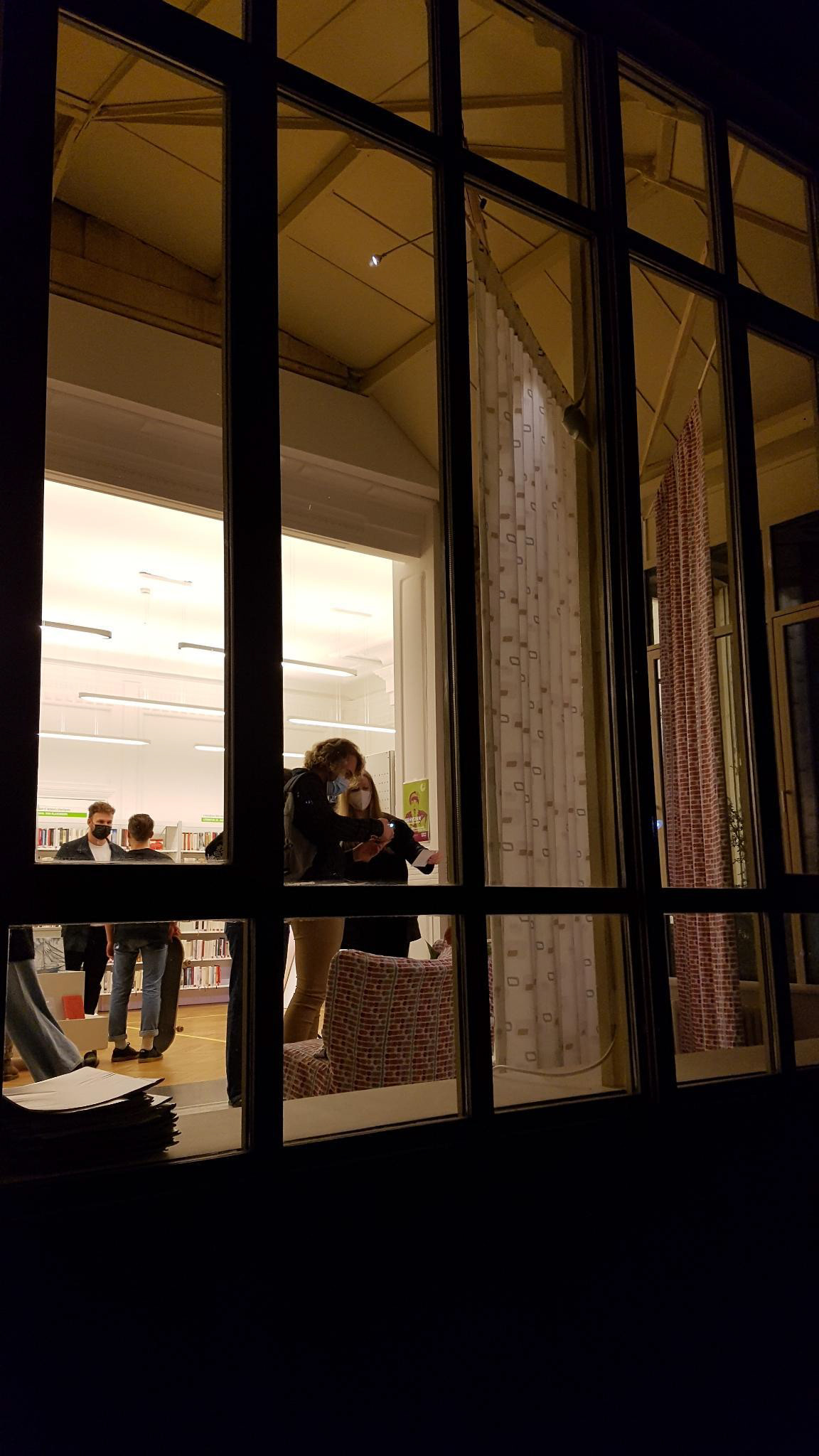 University of Applied Sciences Bielefeld, Germany

At the Bielefeld University of Applied Sciences, the exhibition space was a photo studio. The studio was fade out in contrast to the winter garden in Nancy. Through the darkening, the oppressed feeling, the narrowness and the delusion comes across very strongly. Since I had the room to myself in Bielefeld, while the winter garden in Nancy was connected to a library, I could also work with sound here to carry the visitors into another world and to influence the atmosphere even more. For this purpose, a playlist of US-American songs from the 1950s was played in the background.

Two of the five animations that are visible in the installation via augmented reality

Occasion:

Bachelor Project
Planning Time:

April – August 2021
Exhibitions:

»Werkschau« University of Applied Sciences Bielefeld, Germany in September 2021



                       »The Inner Life of« at the Goethe Institut, Nancy, France from September to December 2021
Programs used:

Adobe Illustrator, Fresco, After Effects, Premiere Pro, ProCreate, Artivive
Supervisor:

Prof. Claudia Rohrmoser, Prof. Florian Kühnle